TRAINING NEGOTIATION SKILL FOR THE OIL & GAS INDUSTRY
TRAINING NEGOTIATION SKILL FOR THE OIL & GAS INDUSTRY
TRAINING NEGOTIATION SKILL FOR THE OIL & GAS INDUSTRY
Training Ketrampilan Negosiasi Untuk Industri Migas
Training Negotation Skills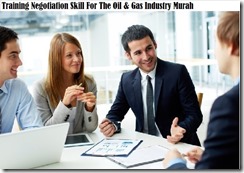 Negotiation almost takes places in every aspect of life, however this skill becomes an important part of professional competence for those who are involved in the business situation : in selling, purchasing, bargaining, doing transactions, managing, persuading people, meeting, finding solution, resolving conflict or dispute and many more.
Professionals such as : salesman, sales manager, purchasing officer, personnel manager, dealers, suppliers, agents, directors, business owners, and other people who wants to maximize what they want, are examples of those who need this skill to support achieving their goals. In most business cases, negotiation takes place in order to maximize the benefits for company or minimize the loss or disadvantages position. Company may define what kind of their business process require negotiation skill and who are the people to do, then assign the people to master the skill.
In order to be successful, in this course participants learn how to go through the whole selling process in the account management to ensure their long-term relationship results with continuous revenue; this is done by developing their strategic selling skill, and specific case studies focused on the practical issues that are unique to the high value, negotiations of the Oil and Gas industry.
Course Outlines
1. PREPARING NEGOTIATION
* Detetmining Negotiating Strategies
* Understanding the basic of exchanges
* Setting the objective and concessions
* Prepare & build your self confidence
* Assess your client or "opponent"
* Using the Agenda
* Create the suitable atmosphere
2. PERFORMING NEGOTIATION
* Analyze the environment
* Constructing the proposal
* Acknowledge on input / feedback /options & opinions
* Perceiving the Body Language
* Setting your position
* Strengthening the position
3. CLOSING
* Profitability, margin
* Choosing the closing techniques
* Controlling toward closing
* Overcoming barrier
* Confirming agreements
* Admiration & Thank You
Instructor
Ir. Herra Henrakancana, C. Ht
He is an Independent Training Instructor. He had experienced over fifteen years in Business Administration and Human Resources Management Field as a Practitioner and Consultant. He also got title as a CERTIFIED HYPNOTIST & HYPNOTHERAPIST (Member in Good Standing of Indonesian Board of Hypnotherapist). Several trainings that he could conduct such as: BUSINESS ADMINISTRATION (Office Management, Business Writing, Managerial Skills for Secretary & Administrative Professionals, General Affair, etc), HUMAN RESOURCE MANAGEMENT (Integrated Human Resource Management, Human Resource Development Strategy, Training Development, etc), SOFT SKILLS (Leadership, Communication, Presentation Skill, Time Management, Brain Development, etc), ENTREPRENEURSHIP, ENGINEERING ECONOMICS.
Karena kompleksnya pelatihan ini, maka dibutuhkan pendalaman yang lebih komprehensif melalui sebuah training.Dan menjadi sebuah kebutuhan akan training provider yang berpengalaman di bidangnya agar tidak membuat peserta menjadi cepat bosan dan jenuh dalam mendalami bidang teknik ini.
Jadwal Pelatihan Nisbi Indonesia  2023 :
Batch 1 : 24 – 26 Januari 2023
Batch 2 : 14 – 16 Februari 2023
Batch 3 : 20 – 23 Maret 2023
Batch 4 : 4 – 6 April 2023
Batch 5 : 15 – 17 Mei 2023
Batch 6 : 26 – 28 Juni 2023
Batch 7 : 17 – 19 Juli 2023
Batch 8 : 14 – 16 Agustus 2023
Batch 9 : 25 – 27 September 2023
Batch 10 : 10 – 12 Oktober 2023
Batch 11 : 7 – 9 November 2023
Batch 12 : 5 – 7 Desember 2023
TEMPAT PELAKSANAAN PELATIHAN
REGULER TRAINING

YOGYAKARTA, Hotel Dafam Malioboro
JAKARTA, Hotel Amaris Tendean
BANDUNG, Hotel Golden Flower
SURABAYA
BALI, Hotel Ibis Kuta
LOMBOK – NTB

ONLINE TRAINING VIA ZOOM
IN HOUSE TRAINING
Note :
Waktu dan tempat pelaksanaan pelatihan bisa kami sesuaikan dengan kebutuhan peserta.
Investasi Pelatihan :
Investasi pelatihan selama tiga hari tersebut menyesuaikan dengan jumlah peserta (on call). *Please feel free to contact us.
Apabila perusahaan membutuhkan paket in house training, anggaran investasi pelatihan dapat menyesuaikan dengan anggaran perusahaan.
Fasilitas training membuat dan menggunakan rencana pengembangan diri murah :
FREE Airport pickup service (Gratis Antar jemput Hotel/Bandara)
FREE Akomodasi Peserta ke tempat pelatihan bagi peserta training terupdate
Module / Handout training terupdate
FREE Flashdisk
Sertifikat training teknik komunikasi murah
FREE Bag or bagpackers (Tas Training)
Training Kit (Dokumentasi photo, Blocknote, ATK, etc)
2xCoffe Break & 1 Lunch, Dinner
FREE Souvenir Exclusive
Technorati Tags: training negotiation skill for the oil & gas industry pasti jalan,training ketrampilan negosiasi untuk industri migas pasti jalan,training negotation skills pasti jalan,training strategi negosiasi dalam industri migas pasti jalan,pelatihan negotiation skill for the oil & gas industry pasti jalan,pelatihan ketrampilan negosiasi untuk industri migas pasti running