TRAINING LAND TRANSPORT MANAGEMENT AND ORGANIZATION
TRAINING LAND TRANSPORT MANAGEMENT AND ORGANIZATION
TRAINING LAND TRANSPORT MANAGEMENT AND ORGANIZATION
Pelatihan Manajemen Dan Organisasi Transportasi Darat
Training Human Behavior At Workplace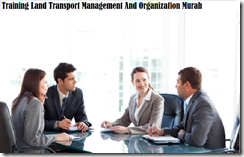 Course Overview
With the increasing burden of legislation and increasing costs of fuel and fleet management, many businesses are struggling. It is vital to have efficient control of your company fleet management. This training program focuses on providing delegates with an insight of the major contemporary managerial and economic issues affecting the logistics and overland transportation.
Objectives
Its aim is to broaden participants' knowledge and understanding of how a logistics and overland transportation should be managed. The program includes consideration of cost control, route evaluation and revenue management. The economics of low cost scheduling and to ensure that all vehicle movements are managed through vehicle selection, provision of vehicles and transport services, equipment outfit and vehicle allocation, and with equal care and attention to the selection and training of drivers.
Upon completion participants expected to learn how to
* Promote land transport sustainability in the company
* Promote safe transport on land
* Provide safety information and advice
* Investigate and review accidents and incidents involving transport on land in its capacity as the responsible safety authority
* Determine whether particular activities should be included in a land transport program benchmark; and activities relating to the police
* Assisting safety and personal security; and improving access and mobility
Who should be attending?
Anyone who responsible for land transport policy, planning and management.
The Topics to be covered are:
* Management and Organizational Framework
* Human Behavior at Workplace
* Overland Transportation Overview
* Land Transport Policy and Planning
* Concept of Land Transport
* Transport or Travel Demand Management
* Land Transport Planning and Strategy
+ Processes
+ Scheduling
+ Systems Applied
* Operation Management
+ Selection and Maintenance
* Transport Management System Overview
* Outsourcing Overview
+ Planning
+ Budgeting
+ Services
o Transportation Procurement — Enhances carrier selection and reduces costs through constraint-based bid optimization, analysis, and awarding. Optimal bids and carriers are selected based on combinations of lane bundles, price, and service
* Transport Cost – Concept
* Route Planning — Determine the best routes through sophisticated optimization, analysis, and scheduling tools to improve routing, driver, and asset utilization.
* Land Transport Optimaztion
* Land Transport Management
+
o Transportation Management — improve shipment lifecycle planning, execution, and settlement with web-hosted planning and optimization, execution, resolution, reporting, and analysis
* Safety and Personal Security
* Case Study/Group Discussion
Instructor
Tim Instruktur
Kegiatan training dan konsultansi dikelola oleh para tenaga ahli dan instruktur yang berpengalaman dan berkompeten di bidangnya. Ini akan menjadi "kunci" bagi suksesnya aktivitas training dan konsultansi yang dijalankan.Juga menjadi kunci bagi perkembangan perusahaan anda di masa depan
Karena kompleksnya pelatihan ini, maka dibutuhkan pendalaman yang lebih komprehensif melalui sebuah training.Dan menjadi sebuah kebutuhan akan training provider yang berpengalaman di bidangnya agar tidak membuat peserta menjadi cepat bosan dan jenuh dalam mendalami bidang teknik ini.
Jadwal Pelatihan Nisbi Indonesia  2023 :
Batch 1 : 24 – 26 Januari 2023
Batch 2 : 14 – 16 Februari 2023
Batch 3 : 20 – 23 Maret 2023
Batch 4 : 4 – 6 April 2023
Batch 5 : 15 – 17 Mei 2023
Batch 6 : 26 – 28 Juni 2023
Batch 7 : 17 – 19 Juli 2023
Batch 8 : 14 – 16 Agustus 2023
Batch 9 : 25 – 27 September 2023
Batch 10 : 10 – 12 Oktober 2023
Batch 11 : 7 – 9 November 2023
Batch 12 : 5 – 7 Desember 2023
TEMPAT PELAKSANAAN PELATIHAN
REGULER TRAINING

YOGYAKARTA, Hotel Dafam Malioboro
JAKARTA, Hotel Amaris Tendean
BANDUNG, Hotel Golden Flower
SURABAYA
BALI, Hotel Ibis Kuta
LOMBOK – NTB

ONLINE TRAINING VIA ZOOM
IN HOUSE TRAINING
Note :
Waktu dan tempat pelaksanaan pelatihan bisa kami sesuaikan dengan kebutuhan peserta.
Investasi Pelatihan :
Investasi pelatihan selama tiga hari tersebut menyesuaikan dengan jumlah peserta (on call). *Please feel free to contact us.
Apabila perusahaan membutuhkan paket in house training, anggaran investasi pelatihan dapat menyesuaikan dengan anggaran perusahaan.
Fasilitas training membuat dan menggunakan rencana pengembangan diri murah :
FREE Airport pickup service (Gratis Antar jemput Hotel/Bandara)
FREE Akomodasi Peserta ke tempat pelatihan bagi peserta training terupdate
Module / Handout training terupdate
FREE Flashdisk
Sertifikat training teknik komunikasi murah
FREE Bag or bagpackers (Tas Training)
Training Kit (Dokumentasi photo, Blocknote, ATK, etc)
2xCoffe Break & 1 Lunch, Dinner
FREE Souvenir Exclusive
Technorati Tags: training land transport management and organization pasti jalan,training manajemen dan organisasi transportasi darat pasti jalan,training human behavior at workplace pasti jalan,training operation management pasti jalan,pelatihan land transport management and organization pasti jalan,pelatihan manajemen dan organisasi transportasi darat pasti running