TRAINING MANAGEMENT OF INFORMATION TECHNOLOGY IN THE OIL AND GAS INDUSTRY
TRAINING MANAGEMENT OF INFORMATION TECHNOLOGY IN THE OIL AND GAS INDUSTRY
TRAINING MANAGEMENT OF INFORMATION TECHNOLOGY IN THE OIL AND GAS INDUSTRY
Training Manajemen Teknologi Informasi Dalam Industri Migas
Training Pengenalan Manajemen Teknologi Informasi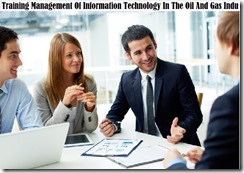 COURSE OBJECTIVES
This course is designed to provide non-IT petroleum industry management and professionals with a thorough overview of key aspects of the management of information technology and its applications in the oil and gas industry. The course addresses the industry's information technology issues ranging from hardware and software basics, networks, the internet, information systems, decision support and knowledge management systems, engineering/technical vs. corporate information systems/ERP, challenges in maintaining and developing information systems and how professionals and managers in the oil and gas industry can get the best out of current trends in information technology development.
COURSE CONTENT
* Basic Information Technology
* Networks and the internet
* Oil and gas business processes
* Information Technology applications in the oil and gas industry
* IT for the Engineer
* Corporate Information Systems / ERP
* Organizing IT throughout the corporation
* Role of the User in the Development of IT Applications
* Trends in the application of Information Technology in the Oil and Gas Industry
Pembicara / Fasilitator
Ir. Triyadi Prayogo, MScM.
Has an Electrical Engineering degree (Ir.) from Institut Teknologi Bandung (ITB), Master of Science in Management degree (MScM). from the Sloan School of Management, Massachusetts Institute of Technology, and over twenty five years of experience in the petroleum industry, mainly in the Information Technology field. He has conducted Information Technology courses and was Head of the IT Division in a large oil company.
Karena kompleksnya pelatihan ini, maka dibutuhkan pendalaman yang lebih komprehensif melalui sebuah training.Dan menjadi sebuah kebutuhan akan training provider yang berpengalaman di bidangnya agar tidak membuat peserta menjadi cepat bosan dan jenuh dalam mendalami bidang teknik ini.
Jadwal Pelatihan Nisbi Indonesia  2023 :
Batch 1 : 24 – 26 Januari 2023
Batch 2 : 14 – 16 Februari 2023
Batch 3 : 20 – 23 Maret 2023
Batch 4 : 4 – 6 April 2023
Batch 5 : 15 – 17 Mei 2023
Batch 6 : 26 – 28 Juni 2023
Batch 7 : 17 – 19 Juli 2023
Batch 8 : 14 – 16 Agustus 2023
Batch 9 : 25 – 27 September 2023
Batch 10 : 10 – 12 Oktober 2023
Batch 11 : 7 – 9 November 2023
Batch 12 : 5 – 7 Desember 2023
TEMPAT PELAKSANAAN PELATIHAN
REGULER TRAINING

YOGYAKARTA, Hotel Dafam Malioboro
JAKARTA, Hotel Amaris Tendean
BANDUNG, Hotel Golden Flower
SURABAYA
BALI, Hotel Ibis Kuta
LOMBOK – NTB

ONLINE TRAINING VIA ZOOM
IN HOUSE TRAINING
Note :
Waktu dan tempat pelaksanaan pelatihan bisa kami sesuaikan dengan kebutuhan peserta.
Investasi Pelatihan :
Investasi pelatihan selama tiga hari tersebut menyesuaikan dengan jumlah peserta (on call). *Please feel free to contact us.
Apabila perusahaan membutuhkan paket in house training, anggaran investasi pelatihan dapat menyesuaikan dengan anggaran perusahaan.
Fasilitas training membuat dan menggunakan rencana pengembangan diri murah :
FREE Airport pickup service (Gratis Antar jemput Hotel/Bandara)
FREE Akomodasi Peserta ke tempat pelatihan bagi peserta training terupdate
Module / Handout training terupdate
FREE Flashdisk
Sertifikat training teknik komunikasi murah
FREE Bag or bagpackers (Tas Training)
Training Kit (Dokumentasi photo, Blocknote, ATK, etc)
2xCoffe Break & 1 Lunch, Dinner
FREE Souvenir Exclusive
· FREE Souvenir Exclusive