TRAINING MANAGING TALENTED PEOPLE
TRAINING MANAGING TALENTED PEOPLE
TRAINING MANAGING TALENTED PEOPLE
Training Mengelola Orang-Orang Bakat
Training Inspiring Talent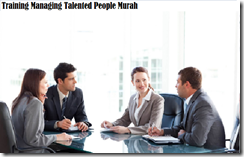 Pengantar
"If organizations are so aware of the need to retain talent, then why do they not seem to be getting better at doing it ?"
"Why are the most talented often the most rewarding people to have in your team and yet, at the same time, the most challenging to manage ?"
Businesses need talented people. Any domain, which is complex and competitive, dynamic and innovative, is obviously going to need talented people. You don't need yet another program to tell you that. We're taking that proposition for granted.
Program Topics:
a. Reflecting on talented people
1. Who defines talent ?
2. The managerial definition of talent
3. An underlying expectation
4. The underlying tension
b. A theory on managing talented people
1. Alerting talent
2. Enabling talent
3. Inspiring talent
c. The practices of managing talented people
1. The nature of the challenge
2. What is practical advice
d. Managing talent in action
1. A plan of action
Learning Methodology:
Each topic is introduced with a 30 – 45 minutes lecturette. This is followed by a structured learning activity (e.g., case study). Each session is capped by the integration of insight shared by the participants.
Requirements:
Participants must bring samples of their current talent management profiles from a unit/department/job family in their organizations. In the absence of such materials, current job descriptions from a unit/department/job family must be brought to the program workshop.
Duration :
2 (two) days intensive program, which include evening sessions for workshop output completion &/or assignments with group.
Target Participants :
Human Resource, Human Capital and Line Staff/Supervisors/Managers who have been involved in Human Resource Development. Executives and managers of strategic business units, organization functions, and human resource development professionals and champions.
FACILITATOR
Instruktur & Tim
Tim Instruktur
Kegiatan training dan konsultansi dikelola oleh para tenaga ahli dan instruktur yang berpengalaman dan berkompeten di bidangnya. Ini akan menjadi "kunci" bagi suksesnya aktivitas training dan konsultansi yang dijalankan.Juga menjadi kunci bagi perkembangan perusahaan anda di masa depan
Karena kompleksnya pelatihan ini, maka dibutuhkan pendalaman yang lebih komprehensif melalui sebuah training.Dan menjadi sebuah kebutuhan akan training provider yang berpengalaman di bidangnya agar tidak membuat peserta menjadi cepat bosan dan jenuh dalam mendalami bidang teknik ini.
Jadwal Pelatihan Nisbi Indonesia  2023 :
Batch 1 : 24 – 26 Januari 2023
Batch 2 : 14 – 16 Februari 2023
Batch 3 : 20 – 23 Maret 2023
Batch 4 : 4 – 6 April 2023
Batch 5 : 15 – 17 Mei 2023
Batch 6 : 26 – 28 Juni 2023
Batch 7 : 17 – 19 Juli 2023
Batch 8 : 14 – 16 Agustus 2023
Batch 9 : 25 – 27 September 2023
Batch 10 : 10 – 12 Oktober 2023
Batch 11 : 7 – 9 November 2023
Batch 12 : 5 – 7 Desember 2023
TEMPAT PELAKSANAAN PELATIHAN
REGULER TRAINING

YOGYAKARTA, Hotel Dafam Malioboro
JAKARTA, Hotel Amaris Tendean
BANDUNG, Hotel Golden Flower
SURABAYA
BALI, Hotel Ibis Kuta
LOMBOK – NTB

ONLINE TRAINING VIA ZOOM
IN HOUSE TRAINING
Note :
Waktu dan tempat pelaksanaan pelatihan bisa kami sesuaikan dengan kebutuhan peserta.
Investasi Pelatihan :
Investasi pelatihan selama tiga hari tersebut menyesuaikan dengan jumlah peserta (on call). *Please feel free to contact us.
Apabila perusahaan membutuhkan paket in house training, anggaran investasi pelatihan dapat menyesuaikan dengan anggaran perusahaan.
Fasilitas training membuat dan menggunakan rencana pengembangan diri murah :
FREE Airport pickup service (Gratis Antar jemput Hotel/Bandara)
FREE Akomodasi Peserta ke tempat pelatihan bagi peserta training terupdate
Module / Handout training terupdate
FREE Flashdisk
Sertifikat training teknik komunikasi murah
FREE Bag or bagpackers (Tas Training)
Training Kit (Dokumentasi photo, Blocknote, ATK, etc)
2xCoffe Break & 1 Lunch, Dinner
FREE Souvenir Exclusive
Technorati Tags: training managing talented people pasti jalan,training mengelola orang-orang bakat pasti jalan,training inspiring talent pasti jalan,training the nature of the challenge pasti jalan,pelatihan managing talented people pasti jalan,pelatihan mengelola orang-orang bakat pasti running