TRAINING PIPELINE RISK & INTEGRITY MANAGEMENT
TRAINING PIPELINE RISK & INTEGRITY MANAGEMENT
TRAINING PIPELINE RISK & INTEGRITY MANAGEMENT
Training Resiko Jaringan Pipa & Manajemen Integritas
Training Manajemen Jaringan Pipa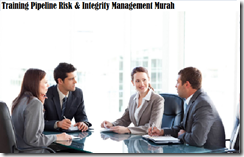 TRAINING INTRODUCTION :
Pipeline Risk & Integrity Management is the most current and modern integrated management system to insure public and environmental safety for oil and gas pipeline transportation operation both onshore and offshore pipelines. It covers detail risk and integrity assessment, inspection, maintenance and repair plan. The pipeline management will also follows specific rules and procedures outlined by ISO 9000 quality system. To enhance the coverage, pipeline risk and integrity management is usually combined with geographical information system (GIS) and online security electronic system to monitor and control the pipeline right of way (ROW) more effectively. Data base management system is therefore a critical part for successful pipeline integrity management implementation. In this training course ANSI/ASME 31.8S and API 1160 as recommended practices and other related method and procedures, will be discussed.
MATERIAL OUTLINE PIPELINE RISK & INTEGRITY MANAGEMENT  :
1. Threat and Hazard Identification
2. High Consequence Areas Determination
3.  Data Mining, Selection and Integration
4.  Qualitative and Quantitative Risk Assessment
5.  Mechanical Integrity Assessment
6.  Risk Mitigation Recommendation
7.   Inspection, Maintenance and Repair Plan
8.  Pipeline Operator Organization and ISO 9000 Quality System
9.  GIS and Pipeline ROW Maintenance Management
TRAINING BENEFIT :
The integrity management program is designed to benefit pipeline operators, public safety, all stake holders by supplementing existing safety requirements with both risk- based management and mechanical integrity principles that focus on safety risks in high consequence areas, such as highly populated or frequented areas. It introduced a new perspective on pipeline operations in the most cost effective way.
WHO SHOULD ATTEND THIS TRAINING?
Plant and Pipeline Operators, Supervisors, Engineers and Manager.
TRAINING INSTRUCTOR
Dr. Ahmad Taufik, M.Eng.
Dr.Ahmad Taufik,M.Eng. is Risk and Integrity Specialist, and  Chairman for Indonesian Society for Reliability (ISR). He got his doctorate program from Georgia Institute of Technology, Atlanta, USA (1996). He is now also a lecturer at Graduate Study Program at Bandung Institute of Technology (ITB) teaching for risk and integrity assessment related courses. He has been interacting with oil and gas companies for more than 10 years for training, consultant and project implementation. This much experiences in oil and gas industries will be shared by him in training class. Dr. Ahmad Taufik has much work experiences joining in some institution such as at Lloyd's Register as Operation Manager, PT. Surveyor Indonesia and PT. AT Solusi as consultant and trainer. And at present Dr. Ahmad Taufik is an Asset Integrity Specialist for PT Pertamina PHE-ONWJ (formerly BP West Java, Indonesia). He has performed in depth study in integrity  research for pipeline, mechanical and pressurized system. He is member of
ASM and ASME. He has wide interest including RBI, PIM, FTA, FMECA, RCA, RAM study and many other risk engineering areas. Dr. Ahmad Taufik has been chairman and speakers for many Oil and Gas International Conferences in Indonesia, (INDOPIPE, MAPREC), Malaysia (ASCOPE), Singapore and China (IPTEC) for the last five years. He has taught many training class on his expertise topics for many companies in Indonesia.
Karena kompleksnya pelatihan ini, maka dibutuhkan pendalaman yang lebih komprehensif melalui sebuah training.Dan menjadi sebuah kebutuhan akan training provider yang berpengalaman di bidangnya agar tidak membuat peserta menjadi cepat bosan dan jenuh dalam mendalami bidang teknik ini.
Jadwal Pelatihan Nisbi Indonesia  2023 :
Batch 1 : 24 – 26 Januari 2023
Batch 2 : 14 – 16 Februari 2023
Batch 3 : 20 – 23 Maret 2023
Batch 4 : 4 – 6 April 2023
Batch 5 : 15 – 17 Mei 2023
Batch 6 : 26 – 28 Juni 2023
Batch 7 : 17 – 19 Juli 2023
Batch 8 : 14 – 16 Agustus 2023
Batch 9 : 25 – 27 September 2023
Batch 10 : 10 – 12 Oktober 2023
Batch 11 : 7 – 9 November 2023
Batch 12 : 5 – 7 Desember 2023
TEMPAT PELAKSANAAN PELATIHAN
REGULER TRAINING

YOGYAKARTA, Hotel Dafam Malioboro
JAKARTA, Hotel Amaris Tendean
BANDUNG, Hotel Golden Flower
SURABAYA
BALI, Hotel Ibis Kuta
LOMBOK – NTB

ONLINE TRAINING VIA ZOOM
IN HOUSE TRAINING
Note :
Waktu dan tempat pelaksanaan pelatihan bisa kami sesuaikan dengan kebutuhan peserta.
Investasi Pelatihan :
Investasi pelatihan selama tiga hari tersebut menyesuaikan dengan jumlah peserta (on call). *Please feel free to contact us.
Apabila perusahaan membutuhkan paket in house training, anggaran investasi pelatihan dapat menyesuaikan dengan anggaran perusahaan.
Fasilitas training membuat dan menggunakan rencana pengembangan diri murah :
FREE Airport pickup service (Gratis Antar jemput Hotel/Bandara)
FREE Akomodasi Peserta ke tempat pelatihan bagi peserta training terupdate
Module / Handout training terupdate
FREE Flashdisk
Sertifikat training teknik komunikasi murah
FREE Bag or bagpackers (Tas Training)
Training Kit (Dokumentasi photo, Blocknote, ATK, etc)
2xCoffe Break & 1 Lunch, Dinner
FREE Souvenir Exclusive
Technorati Tags: training pipeline risk & integrity management pasti jalan,training resiko jaringan pipa & manajemen integritas pasti jalan,training manajemen jaringan pipa pasti jalan,training mechanical integrity assessment pasti jalan,pelatihan pipeline risk & integrity management pasti jalan,pelatihan resiko jaringan pipa & manajemen integritas pasti running