TRAINING RICHARD BRUNDAGE SEMINAR & CENTER FOR ADVANCED MEDIA & CRISIS MANAGEMENT & COMMUNICATIONS
TRAINING RICHARD BRUNDAGE SEMINAR – CENTER FOR ADVANCED MEDIA – CRISIS MANAGEMENT & COMMUNICATIONS
TRAINING RICHARD BRUNDAGE SEMINAR & CENTER FOR ADVANCED MEDIA & CRISIS MANAGEMENT & COMMUNICATIONS
Training Richard Brundage Seminar – Pusat Media Lanjutan – Manajemen Krisis & Komunikasi
Training Crisis Management Culture In Your Organization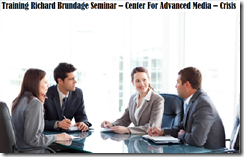 Crisis management communications is part art, part science. Some crisis management communications is simply having in place corporate spokespersons with an instinct for saying the right thing in the right way to the right people at the right time.
But instincts must be honed. In fact, it's the really brilliant communicators who should be the first persons trained when a crisis occurs. Smart crisis management communications never takes anything for granted, not even in the presence of genius.
The science of crisis management communications takes the art of crisis management communications to a next level. Crisis management communications institutionalizes best practices. It readies best practices for implementation and refines each one to fit the circumstance.
For example, the corporate apology may be a best practice in crisis management communications – but in what circumstances? After what other alternatives have been exhausted? How should the apology be delivered? What are the dangers of saying too little? What are the dangers of saying too much?
Rundown Program
Day 1
Section 1 – The Foundation of Good Communication Techniques
* Crisis Communications Management Principles
* Selecting the Crisis Communications Management Team
* Preparing and conducting an internal Crisis Management Audit
* Developing the Crisis Management Culture in your organization
Section 2 – Connecting with the Audience using the Media
* How to capture 87% of your audience in the first 5 seconds
* Themes and bridging techniques to ensure that your agenda is heard
* Exercises that create image and impressions
* How to humanize your organization in any situation
* The 4 Instant Lessons of a media interview or speech
* The reporter's agenda versus yours
* How to handle confrontational interviews or audience questions
* The 6 "C's" of professional media responding
* The two leading character traits viewers look for in a respondent
* Pre-interview techniques to ensure a good media sound bite
* The "Cardinal Rules of Crisis Communications"
Section 3 – Techniques to ensure your Message Gets Across
* Fact Sheets: How to write them and make sure they are used
* Writing for the "ears" as well as for the "eyes"
* How to make sure your message is clearly understood
* How to provide balance to the story – every time
* How never to be taken "out of context" again – in print, radio & television
* The magic "12-second window" and how it works for you
Section 4 – The Backroom Pass: Inside the Newsroom
* Differences between radio, television and print interviews
* Creating your "image": how and when to do it
* Practice makes perfect" exercises for the executives
* 40 techniques for improving your performance in any media or public appearance
* Body language techniques used by the pros
* A look at how newsrooms operate and how decisions are made
Section 5 – Practice makes Perfect
* Case study preparation – theme development
* On Camera exercises
* Playbacks and critiques
Day 2
Crisis Management
* Crisis Defined
* Types of Crises
* Elements of Effective Crisis Response – operations, management & communications response
* Crisis Vulnerability Audit – levels of classification; operational and non-operational scenarios
* The Crisis Management Team – principal, support and specialist functions
* The War Room
* Call out and alert procedures
Section 1 – Crisis Communications
* Communication Characteristics of a Crisis
* Strategic Crisis Communications
* Crisis Communications Policies & Principles
* Court of Law vs. Court of Public Opinion
* Communicating with Stakeholders – victims, employees, business partners, local community, regulatory agencies, etc
* Operationalizing Crisis Communications
+ Crisis Communications Team – various models
+ Media Response Team – onsite and offsite
+ Tapping external agencies & suppliers
+ Crisis Communications War Room
+ Communications Grab Bag
* Crisis Communications Handbook
+ Policies & Procedures
+ Organization – CMT and CCT
+ Logistics
+ Emergency Contact List & Media Directory
+ Holding Statement
+ Fact Sheet
+ Q&As
+ Communication Do's & Don't's
+ Building Trust in Times of Peace: Local Stakeholder Dialogue
Section 1 – Case Study Analysis
* Presentations and viewing of case studies in the Philippines, Asia and the world
* Handling the Difficult Ones
* Tips and secrets on how to handle international media and investigative journalists
* Q&A about participants' challenges in dealing with the media
Section 3 – Roll the Tape: The News Conference
* How to conduct a news conference including: preparing the "opening statement" and fielding questions from reporters
* Preparation of news conference opening statements by teams with "theme development"
* Presentation of news conference by workshop participants
Section 4 – "Surviving in an age of Instant News" – The Internet.
Questions and Answers
Speakers
Richard Brundage
This critically acclaimed seminar was developed by Richard Brundage, the widely recognized international crisis communications expert, author of the book, "The Heart In Communicating", former TV news anchor, producer and director whose programs have appeared on national television.
His "live-on-camera" seminar, "Risk Communications and Media Response Training for Today's Leaders" has received standing ovations around the world. .  From medical, corporate, legal and educational professionals to government, association executives, and industry leaders, Brundage has trained some of the nation's top executives with his insightful, intensive and practical techniques.  His uniquely supportive workshops yield immediate and lasting results for all who participate.
He was recently selected by the State Department to train new U.S. Ambassadors, and was the only crisis communicator in North America to be featured in the 60-minute television special, "Global Risk Management".  His message extends far beyond responding to the media:  It is "new millennium thinking" about how we all communicate with each other.
Co-Speaker
Maria Lourdes L. Espina, APR
Malou Espina is an Accredited Public Relations professional (APR) with over 15 years of experience in the private and public sectors. She specializes in issues management, corporate communications, and stakeholder relationship management. Her practical approach to corporate PR comes from several years of working in the academe, congress and the oil industry.
As head of public affairs of the Asian Institute of Management and then the STI Education Services Group, Malou developed and implemented award-winning programs designed to strengthen relationships with constituencies. Her stints at the STI Foundation for Leadership in IT & Education (STI FLITE) and the AIM-RVR Center for Corporate Responsibility developed her passion for CSR which continues to this day. As Chief of Staff to former Representative Mar Roxas, she helped steer his legislative agenda and organized The Philippine Forum, a conference of the country's next generation of leaders.
Malou is currently corporate affairs manager and spokesperson of Total (Philippines) Corporation, a subsidiary of the world's fourth-largest integrated oil and gas company. She is a 3-term director of the Public Relations Society of the Philippines and an active member of the International Association of Business Communicators. She conducts media training and is an occasional speaker on corporate and crisis communications
Karena kompleksnya pelatihan ini, maka dibutuhkan pendalaman yang lebih komprehensif melalui sebuah training.Dan menjadi sebuah kebutuhan akan training provider yang berpengalaman di bidangnya agar tidak membuat peserta menjadi cepat bosan dan jenuh dalam mendalami bidang teknik ini.
Jadwal Pelatihan Nisbi Indonesia  2023 :
Batch 1 : 24 – 26 Januari 2023
Batch 2 : 14 – 16 Februari 2023
Batch 3 : 20 – 23 Maret 2023
Batch 4 : 4 – 6 April 2023
Batch 5 : 15 – 17 Mei 2023
Batch 6 : 26 – 28 Juni 2023
Batch 7 : 17 – 19 Juli 2023
Batch 8 : 14 – 16 Agustus 2023
Batch 9 : 25 – 27 September 2023
Batch 10 : 10 – 12 Oktober 2023
Batch 11 : 7 – 9 November 2023
Batch 12 : 5 – 7 Desember 2023
TEMPAT PELAKSANAAN PELATIHAN
REGULER TRAINING

YOGYAKARTA, Hotel Dafam Malioboro
JAKARTA, Hotel Amaris Tendean
BANDUNG, Hotel Golden Flower
SURABAYA
BALI, Hotel Ibis Kuta
LOMBOK – NTB

ONLINE TRAINING VIA ZOOM
IN HOUSE TRAINING
Note :
Waktu dan tempat pelaksanaan pelatihan bisa kami sesuaikan dengan kebutuhan peserta.
Investasi Pelatihan :
Investasi pelatihan selama tiga hari tersebut menyesuaikan dengan jumlah peserta (on call). *Please feel free to contact us.
Apabila perusahaan membutuhkan paket in house training, anggaran investasi pelatihan dapat menyesuaikan dengan anggaran perusahaan.
Fasilitas training membuat dan menggunakan rencana pengembangan diri murah :
FREE Airport pickup service (Gratis Antar jemput Hotel/Bandara)
FREE Akomodasi Peserta ke tempat pelatihan bagi peserta training terupdate
Module / Handout training terupdate
FREE Flashdisk
Sertifikat training teknik komunikasi murah
FREE Bag or bagpackers (Tas Training)
Training Kit (Dokumentasi photo, Blocknote, ATK, etc)
2xCoffe Break & 1 Lunch, Dinner
FREE Souvenir Exclusive
Technorati Tags: training richard brundage seminar – center for advanced media – crisis management & communications pasti jalan,training richard brundage seminar – pusat media lanjutan – manajemen krisis & komunikasi pasti jalan,training crisis management culture in your organization pasti jalan,training communications management pasti jalan,pelatihan richard brundage seminar – center for advanced media – crisis management & communications pasti jalan,pelatihan richard brundage seminar – pusat media lanjutan – manajemen krisis & komunikasi pasti running