TRAINING RISK ANALYSIS IN PETROLEUM BUSINESS
TRAINING RISK ANALYSIS IN PETROLEUM BUSINESS
TRAINING RISK ANALYSIS IN PETROLEUM BUSINESS
Training Analisa Resiko Dalam Bisnis Petroleum
Training Economic Evaluation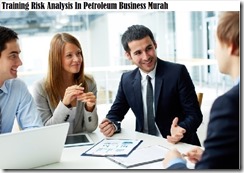 Background
Petroleum business is risky business. Petroleum business risks consist of risks affecting its profit, i.e., production, price, costs and government take. There are geological and production risk, market risk, technological risk and country risk.
Risk analysis is important for making decision. Risk analysis consists of sensitivity analysis, decision tree and monte carlo simulation. Applications for reserves estimation and for petroleum exploration and development planning are important for upstream petroleum industry.
What Will You Learn?
* Economic Evaluation
* Statistics for Risk Analysis
* Types of Risk Analysis
* Sensitivity Analysis
* Decision Tree
* Monte Carlo Simulation
* Monte Carlo Simulation for Petroleum Exploration and Development
Who Could Participate?
* Financial Analyst
* Project Engineering and Economic Team
* Development Planning Team
* Geophysicist and Geologist
* Reservoir Engineers, Production Engineers and Drilling Engineers
* Anybody who wish to learn the course subjects
Who is The Instructor?
In this comprehensive course, you will be assisted by a compatible Instructor:
Widjajono Partowidagdo is a Professor in Petroleum Economics and Field Management at the Faculty of Mining and Petroleum Engineering, Institut Teknologi Bandung (ITB), a member of National Energy Council, a member of Supervision Team for Increasing Petroleum Production at Ministry of  Energy and Mineral Resources and advisor for Association of Petroleum National Companies and Indonesian Petroleum Engineers Association.
He was the Head of the Research Group in Drilling and Production Engineering and Management of Oil and Gas at the Faculty of Earth Sciences and Mineral Technology, ITB from 2005-2007, Head of Graduate Program in Development Studies ITB from 1993-2004, Vice Dean for Academic Affairs, Faculty of Mining Technology and Senate Member of ITB from 1994-1997 and Coordinator for Research in Sustainable Development at the Inter-University Center for Economics, University of Indonesia from 1989-1992.
He received his Bachelor in Petroleum Engineering from ITB, MSc in Petroleum Engineering, MSc in Operations Research, MA in Economics and PhD with a dissertation on "An Oil and Gas Supply and Economics Model for Indonesia" from the University of Southern California, Los Angeles, USA.
He has written three books (in Indonesian):  Management and Economy of Oil and Gas, 2002; Understanding Development and Policy Analysis, 2004; and Petroleum and Energy in Indonesia, Problems and Policy Analysis, 2009. He was a coordinating author of Agenda 21, Energy for Sustainable Development, Coordinating Ministry of Environment and UNDP, 2000.
Karena kompleksnya pelatihan ini, maka dibutuhkan pendalaman yang lebih komprehensif melalui sebuah training.Dan menjadi sebuah kebutuhan akan training provider yang berpengalaman di bidangnya agar tidak membuat peserta menjadi cepat bosan dan jenuh dalam mendalami bidang teknik ini.
Jadwal Pelatihan Nisbi Indonesia  2023 :
Batch 1 : 24 – 26 Januari 2023
Batch 2 : 14 – 16 Februari 2023
Batch 3 : 20 – 23 Maret 2023
Batch 4 : 4 – 6 April 2023
Batch 5 : 15 – 17 Mei 2023
Batch 6 : 26 – 28 Juni 2023
Batch 7 : 17 – 19 Juli 2023
Batch 8 : 14 – 16 Agustus 2023
Batch 9 : 25 – 27 September 2023
Batch 10 : 10 – 12 Oktober 2023
Batch 11 : 7 – 9 November 2023
Batch 12 : 5 – 7 Desember 2023
TEMPAT PELAKSANAAN PELATIHAN
REGULER TRAINING

YOGYAKARTA, Hotel Dafam Malioboro
JAKARTA, Hotel Amaris Tendean
BANDUNG, Hotel Golden Flower
SURABAYA
BALI, Hotel Ibis Kuta
LOMBOK – NTB

ONLINE TRAINING VIA ZOOM
IN HOUSE TRAINING
Note :
Waktu dan tempat pelaksanaan pelatihan bisa kami sesuaikan dengan kebutuhan peserta.
Investasi Pelatihan :
Investasi pelatihan selama tiga hari tersebut menyesuaikan dengan jumlah peserta (on call). *Please feel free to contact us.
Apabila perusahaan membutuhkan paket in house training, anggaran investasi pelatihan dapat menyesuaikan dengan anggaran perusahaan.
Fasilitas training membuat dan menggunakan rencana pengembangan diri murah :
FREE Airport pickup service (Gratis Antar jemput Hotel/Bandara)
FREE Akomodasi Peserta ke tempat pelatihan bagi peserta training terupdate
Module / Handout training terupdate
FREE Flashdisk
Sertifikat training teknik komunikasi murah
FREE Bag or bagpackers (Tas Training)
Training Kit (Dokumentasi photo, Blocknote, ATK, etc)
2xCoffe Break & 1 Lunch, Dinner
FREE Souvenir Exclusive
Technorati Tags: training risk analysis in petroleum business pasti jalan,training analisa resiko dalam bisnis petroleum pasti jalan,training economic evaluation pasti jalan,training analisa finansial pasti jalan,pelatihan risk analysis in petroleum business pasti jalan,pelatihan analisa resiko dalam bisnis petroleum pasti running